The left finally got its wish.
After years of boycotts someone finally silenced Tucker Carlson.
And Tucker Carlson just got canceled for speaking this obvious truth.
With the 2022 election creeping up and polls showing a red wave building towards November, Twitter is stepping up its ideological censorship of conservatives to help Democrats in any way the social media giant can.
Twitter recently locked the account of the wildly popular Christian satire site, The Babylon Bee, for awarding biological male and fake admiral and U.S. Assistant Secretary for Health for the U.S. Department of Health and Human Services Rachel – born Richard – Levine as its man of the year.
I just received this notice that we've been locked out of our account for "hateful conduct." pic.twitter.com/udMriKcDr6

— Seth Dillon (@SethDillon) March 20, 2022
Twitter locking the account means a 12-hour suspension will start once The Babylon Bee deletes the offending tweet.
Babylon Bee CEO Seth Dillon said the site would refuse to delete the tweet because the truth is Rachel Levine is not a woman since he was born a man.
"We're not deleting anything," Dillon stated. "Truth is not hate speech. If the cost of telling the truth is the loss of our Twitter account, then so be it."
Turning Point USA Founder Charlie Kirk is also locked out of his account because he refused to delete a tweet confirming that Levine is a man.
That's why Tucker Carlson got involved.
Carlson tweeted screen caps of The Babylon Bee and Kirk's tweets writing that both of these tweets are true.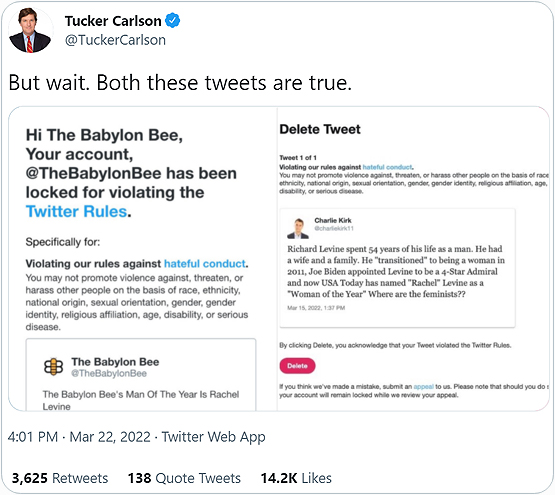 Twitter censored Carlson's tweet by deleting it claiming it violated "hateful conduct" policies.
In 2022 American social media companies can censor the most popular talk show host on cable news for the absurd reason that speaking truth is now hate speech.
Social media companies like Twitter successfully rigged the 2020 election by denying the American people access to the bombshell New York Post story about the contents of Hunter Biden's laptop containing evidence of criminal activity in foreign business schemes that involved Joe Biden.
The emails also proved Biden lied when he said he never discussed business with Hunter Biden.
Now in 2022 polls show Republicans ready to rout Democrats in November and win control of one or both houses of Congress.
Twitter executives and employees are largely left-wing radicals and they will use the power in their hands – Twitter and other social media platforms are the most powerful companies in human history – to once again press their thumbs down on the scale and try and rig this coming election for the Democrats by attempting to control the flow of information to the public.
If you want Great American Daily to keep you up to date on any new developments in this ongoing story and the rest of the breaking news in politics, please bookmark our site, consider making us your homepage and forward our content with your friends on social media and email.