Liberals hate Tucker Carlson.
But the left's vendetta against the top-rated Fox News Channel host crossed the line.
And Tucker Carlson just got accused of this crime that is punishable by death.
Tucker Carlson is one of many on the right that believe Joe Biden is about to blunder America into World War Three.
Carlson – like many conservatives – opposes war with Russia over Ukraine arguing America has no compelling national security interest in the territorial integrity of Ukraine's border with Russia.
For opposing a potential war with Russia – that could spiral out of control into a nuclear holocaust – Democrats and their allies in the media smeared Carlson as a Russian stooge.
Harvard Law Professor Laurence Tribe – who has advised Joe Biden in the past – went one step further and accused Carlson – and anyone else in the GOP that opposed war with Russia – of committing treason, one of just three crimes outlined in the Constitution which carries a penalty of death.
"Led by Tucker Carlson, the GOP's Trump wing appears to be throwing its weight behind Putin. If Putin opts to wage war on our ally, Ukraine, such 'aid and comfort' to an 'enemy' would appear to become 'treason' as defined by Article III of the U.S. Constitution," Tribe posted on Twitter.
The Constitution describes treason as:
Treason against the United States, shall consist only in levying war against them, or in adhering to their enemies, giving them aid and comfort. No person shall be convicted of treason unless on the testimony of two witnesses to the same overt act, or on confession in open court.
The Congress shall have power to declare the punishment of treason, but no attainder of treason shall work corruption of blood, or forfeiture except during the life of the person attainted.
Even liberals like Never Trump commentator David French realized Tribe was out of line.
"This is completely false. Constitutional text, history, and precedent say this is false. It's not even in the same ballpark as the truth," French wrote.
The United States is not at war with Russia.
Even if the United States did engage in hostilities with Russia a political commentator opposing a war effort is not treason.
Were that dangerous standard in place during the Iraq War, George W. Bush could have locked up nearly the entire Democrat Party and corporate media.
Tribe realized he stepped in it and deleted that tweet as well as a subsequent tweet trying to explain why he thought the government should put Tucker Carlson to death for opposing war with Russia.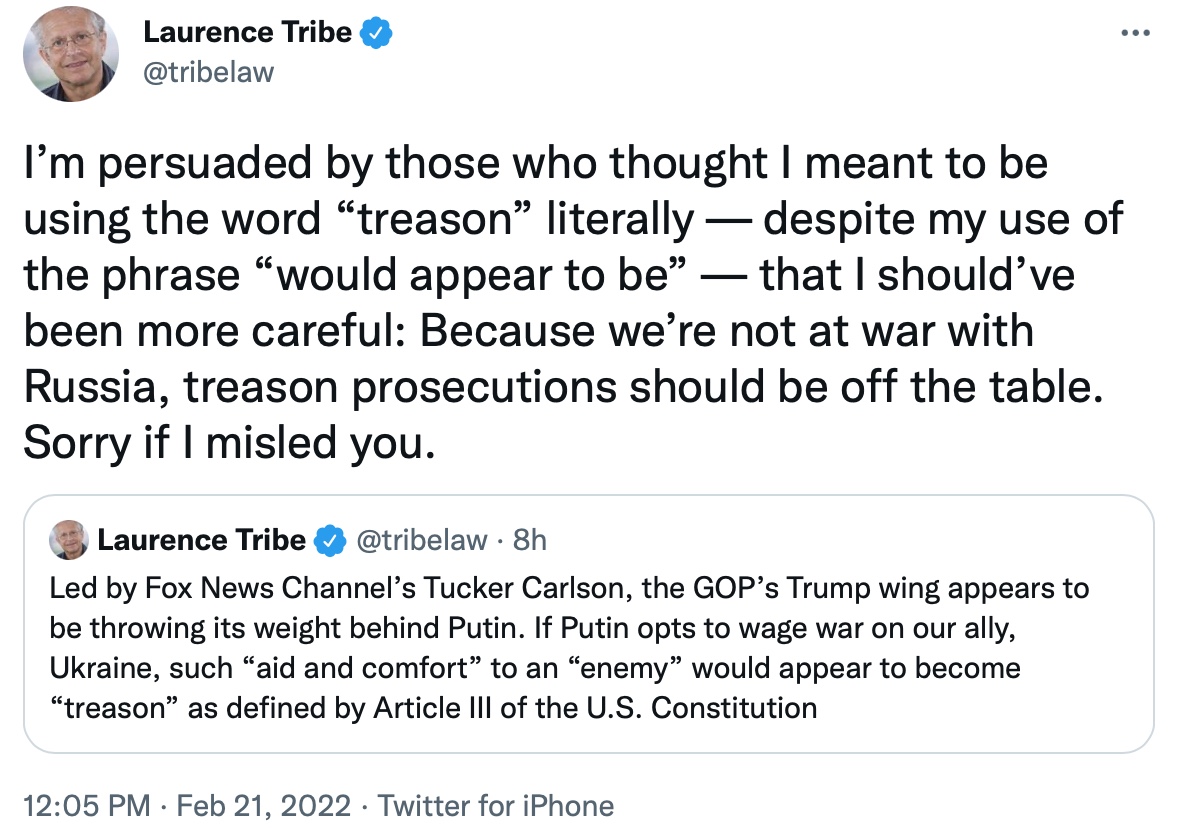 While Tribe did walk back his accusation of treason against Carlson as well as anyone else that did not support war with Russia, this was another example of the alarming trend on the left where liberals now see speech they oppose as violence and criminal conduct.
If you want Great American Daily to keep you up to date on any new developments in this ongoing story and the rest of the breaking news in politics, please bookmark our site, consider making us your homepage and forward our content with your friends on social media and email.